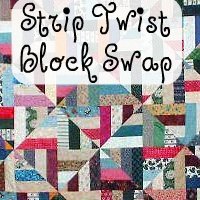 I'm becoming a swap addict I think. I'm hosting a new block swap for the members of the Big Tent Quiltcast Supergroup folks (anyone that listens to quilting podcasts can join). We did our first swap last year, it ended a few days ago. Take a look at some of the cool blocks that were swapped then!
http://www.flickr.com/apps/slideshow/show.swf?v=71649
So I'm doing a new swap beginning in February. Here are all the details! Please join us and I highly encourage you to listen to quilting podcasts. They are so much fun and full of lots of useful information for free!!!
Strip Twist Block Swap
Signup Deadline: February 7, 2011
Deadline for Packages to be Sent: March 14, 2011
Join the swap at Swapbot: http://www.swap-bot.com/swap/show/80914
Swap password: bigtentswapper
Signup Instructions: To signup go to Swap Bot. Create an account if you don't already have one. Scroll past the swap description and click "join swap" near the bottom of the page. Enter the password as requested (see above for the password). Confirm that you do indeed want to join the swap and off you go! Partners will be assigned on February 8th so you will find out which two people you will be sending blocks to then.
We will be using the strip twist block pattern.
Strip Twist Block Pattern: When using this pattern make sure to use the instructions for the strips at 2.5″ so all your blocks are the same size when finished.
Fabric should be new, of good quality and 100% cotton. Color choices are based on what your partner prefers written in their profiles. Please read your partners profile and see what colors they prefer to have. Some swappers may wish to list colors they would prefer to NOT have in their blocks if that makes it easier.
If you have allergies please state this so your partner knows. If I need to pair you with a new partner I will do so. If possible, use fabrics you already have in your stash. This is a scrap busting swap!
—————–
This pattern requires NO templates! I know this was an issue on the last block so I found something easy and fun when all the blocks are put together. This is a great way to use up 2.5″ strips you have lying around in your scrap bins.