Podcast: Play in new window | Download (Duration: 46:13 — 18.5MB)
Subscribe: Apple Podcasts | Android | RSS
I visited the library again – more book reviews!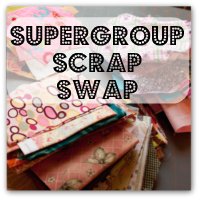 New Quiltcast Supergroup Swap!  If you want to participate here are the details:
Signup Deadline: April 29, 2011
Packages must be mailed by: May 15, 2011
Number of partners assigned: 3
We are swapping scraps!  Fill up at least a quart size ziplock bag of scraps (one per partner, three packages total). Scraps should be at least 2″ square or larger, no crumbs in this swap.
Scrap onto others how you would like them to scrap onto you! (Don't send out scraps you wouldn't like to get back.)
You might want to e-mail your partners and see if they have any specific requests for colors, prints, sizes etc. If you have preferences (jelly roll strips, 5″ charm pack squares, colors, prints) list them in the swap comments.
Most of all – send your scraps out on time and enjoy the scraps you get in return!