Podcast: Play in new window | Download (Duration: 1:22:14 — 37.7MB)
Subscribe: Apple Podcasts | Android | RSS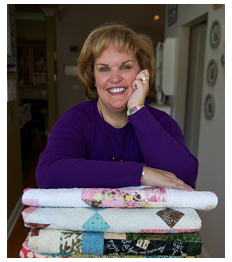 Download the podcast in iTunes
On a lovely Wednesday in February I took the day off from work to accomplish two things: travel to the other side of the county for Basil's vet appointment and interview Kimberly Einmo! She was kind enough to let me have a few hours of her afternoon for an interview and we spent some time sewing and chatting together afterwards.
You can follow Kimberly on her blog, order her books and rulers thorough her store, see where she's at on her event calendar and reference ruler instructions that she saves in case you need it!
Kimberly is the author of three books (click the photo to learn more and order):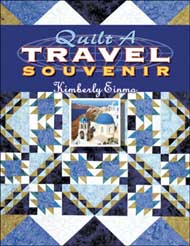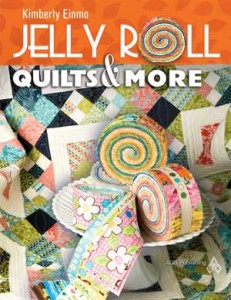 And several rulers:
Some photos of her quilts featured in Jelly Roll Magic (click to make larger):
Kimberly's blog post – "Are You a Thread Snob?" – learn some great reasons why thread is just as important is good fabric.  We both love Aurifil 50 wt Mako thread for piecing and quilting. (I get mine from The Quilt Bear or one of my LQS).
Two longarm quilters that Kimberly uses for her quilts:
Giveaway Information:

Kimberly is happy to sponsor a giveaway for her latest book Jelly Roll Magic and her EZ Jelly Roll Ruler.  She will even sign the book for the winner!   Just leave a comment on this post by Friday, February 24th, midnight EST and you are entered to win!
——————————————————————————–
 Some photos of her studio and fabric storage:
This is the view into her kitchenette area. Kimberly has converted part of an in-law suite for her sewing studio.



A new precut project that she is working on using Robert Kaufman Batik strips!
Her Christmas gift to herself – a complete set of Aurifil 50 wt threads!
Kimberly's travel sewing project – she makes yoyos and has a whole basket full of them.  She hopes to one day sew all of them together and make some sort of quilt out of them.
View of her sewing area from the kitchenette.  She has her main sewing machine in the white cabinet, her laptop behind her and her ironing board to her right. Divot, her faithful canine companion, sleeps on a quilt in the white office chair while she works.
It was a beautiful day outside so she opened her studio up to the screened in patio room where the cats love to lay in the sun and chase lizards.  I had to keep from laughing several times while recording because I'd look over and see Snickers stalking prey!
Artwork from one of her sons that she framed and hung up in her studio.
This is a travel quilt she completed on a class she taught during an Alaskan cruise.  The ladies pieced one of these small quilt tops, used Pigma Paintstiks to decorate it and collected pins from the various ports they visited as a souvenir quilt.  I think it is so cute! I love the paw prints.

Her trunk show quilts in storage.  Safe away from light and folded up off the floor.

Fabrics she collected in Europe and some of her other trips and below those are her 30's fabrics that she plans to use.

Yardage separated by color.

Her batiks!


Her cutting area!  She said these cabinets came from a Goodwill in Germany and they've followed her around ever since.  They are the perfect cutting height for her and provide lots of storage space. 
Tuffy sleeping in the sun!  He was on the table the entire time sleeping in the sun patch. 
Miss Divot also enjoying the nice weather on a patio chair!
Don't forget to enter the giveaway!  Thanks so much to Kimberly for letting me spend the afternoon with her. I think this podcast episode has more laughing in it than any other one!