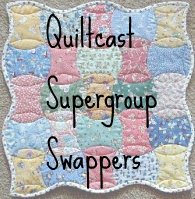 I wanted to generate some interest in this upcoming swap because I think it is going to be lots of fun especially if you are a scrap quilter!
Scrappy Trip Around the World Block Swap
Signup Deadline:  April 1, 2012
All swap packages must be sent by: April 30, 2012
Number of swap partners: 2
Number of blocks to swap: 8 blocks total, each partner gets 4 blocks.  A completed block will be 12″ finished/12.5″ unfinished (with the 1/4 seam all around before it is sewn to something else)
I'm hosting a block swap in April and we will be doing the Bonnie Hunter Scrappy Trips Around the World Block.  It is basically a small bargello type block using scraps of 2.5″ strips of fabric that you have leftover.  I have a ton that I need to use up and I think doing this block would make a more managable quilt top than jumping straight into a scrappy bargello quilt.  Plus – it makes for a great block swap!
The block might not look like much until you see some of the completed quilts that used lots of them put together!
I hope you will join our group and have some fun swapping blocks!