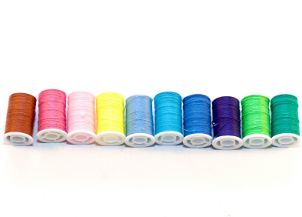 Ever wonder were I get all my stuff from? I try to purchase smart and get the best bang for my buck. Here is a really long list of places I source my items from:
Quilting
Fabrics and Pre-cuts
Fat Quarter Shop – For stash building I purchase their 12 Pound Fabric Grab Bag here. They typically also carry the latest fabric collections and you can get notifications when future collections are released.
ThousandsofBolts.com – I love to purchase my background fabrics here. It's easy to find neutrals that you can add to your stash because they have a neat color selector tool. Most of the background fabrics I've found are under $5 per yard for quilt shop quality fabrics.  They feel wonderful! She has a nice selection of wide-back fabrics and batiks that are reasonably priced.
Missouri Star Quilt Company – they have great prices on daily deals and in general for precuts. Sign up for their daily deal newsletter and you'll find out what deal they have each day on a precut! The jelly roll and layer cake deals are worth it since shipping is usually $5+ on top of your order.  Still, you can figure on saving $10 for a jelly roll or layer cake from MSQC.
Thread
Notions
Amazon.com
– I have a Prime membership account so I get free shipping on everything.  I try to purchase all my rulers, needles, cutting blades etc. from Amazon. I can usually come out cheaper by doing this than by going to a local big box fabric store unless I have a good coupon.
PaperPieces.com – for all my English Paper Piecing templates you can't beat their prices on diecut pieces.
Embroidery
Supplies
Metro Embroidery Thread – they have fantastic prices on great embroidery thread. The mini cones are 1000 meters and include a snap end spool to keep your loose ends from going all over the place.  Same with the big spools which are 5000 meters.  They also sell stabilizer and prewound bobbins when they have them in stock.
Cutaway stabilizer – 10″ x 100 yards for $19.99 via Amazon.com
Tearaway stabilizer – 10″ x 100 yards for $19.99 via Amazon.com – I love having a large roll of this so I don't have to worry about running out anytime soon. 10″ is generally wide enough for most of what I do.
100 piece 75/11 Organ Needles for Embroidery Machines – Amazon.com – you will go through needles like crazy so having a large pack of them is really nice.
60 wt. White Bobbin Thread 5000m by ThreadArt – Amazon.com – this is awesome bobbin thread and you can get a lot of it wound onto a bobbin. I can't believe how strong it is for a 60 wt thread!
Curved Embroidery Scissors (Gingher) – great for trimming away applique fabric and threads. Amazon.com
Designs
Embroidery Library – they have a great selection of single run designs that I've used for quilting in the hoop and lots of other designs to choose from for regular embroidery. If you sign up for their newsletter you will be notified when they have a sale which is quite often!
Big Dreams Embroidery – beautiful applique designs and really fun in-the-hoop projects. She releases new stuff nearly every week and will occasionally have a sale for her Facebook followers.
Urban Threads – unique designs for the geeks in the world! They have lots of different things that you won't find anywhere else. I particularly like their Sinbonnet Sue line.
8 Claws and a Paw – perfect for monograms and fonts, they have a large selection